About Common Sense Leadership
"Common Sense Leadership" is a simple, pragmatic approach to leadership – it's about being a person of character and demonstrating an unwavering commitment to the learning, growth and success of others.
Our goal is to help you achieve your leadership goals, not by prescribing solutions, but by sharing proven practices, encouraging open and recpetive thinking and asking purposeful questions that help you become even better.
We know there's no secret formula for great leadership. That's why we take the time to understand your needs, discover your strengths, and identify growth opportunities before developing a customized coaching program designed to foster your learning, growth and success.
We offer a safe, supportive and confidential environment to share your experiences and explore ideas. Though flexible, an initial four to six-month engagement allows us to meet regularly with you to outline your personal and professional goals and challenges, and to discuss and evaluate your progress.
 About John Keyser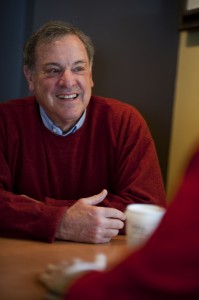 John Keyser is founder and principal of Common Sense Leadership, a Washington, D.C.-based coaching firm that helps corporate executives further develop skills they need to become great leaders. John has helped countless CEOs and senior business leaders learn how to encourage workplace productivity, collaboration and, ultimately, profitability by adopting best practices in leadership – bringing out the best in their teams.
Prior to becoming a leaderdship consultant and coach, John had a successful career as a leader in the private and non-profit sectors for more than 40 years. His first hand experience working within highly energetic, successful cultures uniquely qualifies him to share how organizations perform at their highest level, and, surely, the benefit of investing time and resources in developing people. Previously, John was a senior executive with Johnson & Higgins, one of the largest brokerage firms in the world,  later merged into Marsh & McLennan. He also served as executive director of Damon Runyon Cancer Research Foundation and head of development for the Georgetown University Medical Center.
As a believer in corporate responsibility, John has served on numerous boards in New York, Chicago and Washington, D.C. in the educational, health care, arts and sports industries. In 2007, John received the first ever Big East Conference Award for contributions to women's athletics and in 2009 he joined the LPGA Commissioner's Advisory Committee.
John is a Georgetown University liberal arts graduate and also a graduate of the Georgetown Leadership Coaching Program, which is accredited by the International Coaching Federation.